High Pressure CO2 Expansion Valve CX Series
The launch Of High Pressure Expansion Valve Series For CO2 Gascooler Applications By Emerson Climate Technologies The newly launched stepper motor driven valves ensure precise control of R744 refrigerant mass flow in air conditioning, refrigeration and heat pump applications. The series called CX features a maximum working pressure of 120 bar and can be used as high pressure expansion valve, but also for general control applications such as liquid injection or hot gas bypass control.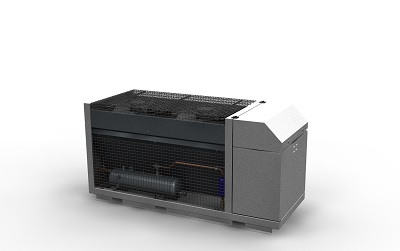 The valve series is perfectly suitable for transcritical CO2 applications. In addition, the fully hermetic design ensures high quality and security as the design avoids threaded joints between valve body and motor compartment.
The series includes the models CX4, CX5, CX6 and CX7 with flow rates (kv value) varying from 0.21 to 5.58 m3/h.
Basic specification of CX Series High Pressure Expansion Valves
• For transcritical CO2 applications
• Maximum working pressure, PS: 120 bar
• Test pressure, PT: 132 bar
• Approved for system test pressure up to 172 bar
• Burst pressure: >360 bar
• Control valve for high pressure expansion valve, liquid injection, hot gas bypass or suction gas regulator applications
• Extremely wide capacity range (10 ... 100%)
• Very short full stroke time
• High resolution and excellent repeatability
• Positive shut-off of valve to eliminate the use of an additional solenoid valve
About Emerson Climate Technologies
Emerson Climate Technologies™, a business of Emerson, is the world's leading provider of heating, ventilation, air conditioning and refrigeration solutions for residential, industrial, and commercial applications. The group provides customized, integrated climate control solutions for customers worldwide through its renowned brands, such as Copeland Scroll™ and Alco Controls.
Click here to find out more about:
Emerson Climate Technologies Ltd


N.B. The information contained in this entry is provided by the above supplier, and does not necessarily reflect the views and opinions of the publisher