Published on 17 - March - 2008
Carrier to keep Charles and Camilla cool
CARRIER has secured the right to keep the public face of the future king of England and the Duchess of Cornwall cool -by ensuring the home of the royal couple's waxwork images is well air-conditioned.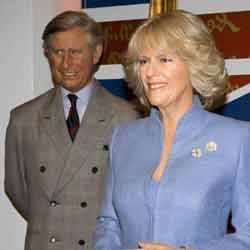 Charles and Camilla stay cool while in public eye
The world's largest provider of heating, air conditioning and refrigeration solutions has provided two roof-mounted Carrier Aquaforce chillers with micro-channel coil technology to serve the air conditioning requirements of London's Madame Tussauds' building.
Each chiller is providing 764kW of cooling capacity to the building's air handling system. This large capacity air conditioning system is required to provide a comfortable environment for the huge volume of visitors the attraction receives every day of the year.
The UK system was selected from the whole range of equipment available in the marketplace by consultants David Beattie Associates.
Madame Tussauds is providing a replacement air conditioning system using the latest environmentally friendly chilled water technology.
As the equipment is sited externally within an urban environment it has been supplied with an appropriate acoustic package, part of which comes factory-fitted.
The Carrier operation there has also provided 600 kW of cooling for Madame Tussauds Amsterdam via a large 30 RB Aquasnap chiller.