Published on 15 - January - 2008
Marriage of Figaroo: Industry pledges F-gas commitments
Figaroo.org (F-Gas Regulation Online Observatory) is an online international resource for those who need to understand and comply with the F-Gas Regulation.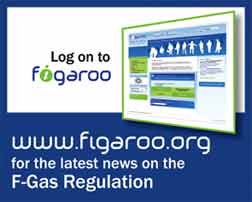 Industry sings the praises of Figaroo
The new year has brought new content to the site in particular a downloadable logbook which has been developed to help those in the industry comply with the reporting requirements of F-gases rules.
Latest news, regulation documents, case studies and FAQs have been contributed by the European Partnership for Energy and the Environment (EPEE), the European Fluocarbons Technical Committee (EFCTC), the Air Conditioning and Refrigeration Industry Board (ACRIB), the Federation of Environmental Trade Associations (FETA) and the British Refrigeration Association (BRA).
Since July 2007, industry has had to comply with the requirements of EU legislation on fluorinated gases.
A spokesman for EPPE said "The website is still work in progress. However, with the support of the European Fluorocarbons Technical Committee (EFCTC), the intention is that this website will become an essential tool in ensuring the success of the F-Gas regulation. It will also support industry's position at the forefront of the successful containment of F-Gases, producing energy efficient products and protecting the environment.
The F-Gas Regulation specifies detailed containment provisions, particularly schedules for leak checking of equipment, staff training, and the certification of people working with F-Gases. It also details a mandatory reporting scheme for those producing, importing, exporting and selling these gases and includes selective bans for emissive, low-societal value uses.
The F-gas regulation is not set in stone. The review of the regulation, planned for 2011, will assess amongst other factors, the effectiveness of containment measures and the state of technology. Based on this review, the commission could propose more stringent measures.