Published on 23 - July - 2007
World spins for Rotartica- the energy-efficient ac unit
SPANISH inventors have created a solar-powered air conditioning unit that could cut utility bills.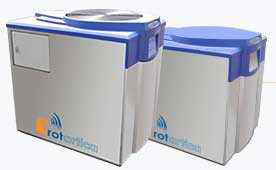 Rotartica ac unit
The Rotartica invented by the Spanish firm of the same name, is being tested by US researchers at Oak Ridge National Lab who say it could well be the most advanced air conditioner around.
The air conditioning unit's heat pump spins, using centrifugal forces to dramatically improve the heat and mass transfer inside the unit, making it more efficient, leading to reduced utility bills.
The solar-powered model uses natural refrigerants that are harmless to the ozone layer and the unit operates without cooling towers.
Ac units used in US schools and businesses are routinely damaged by thieves keen to steal its copper, which costs $2.75 a pound. The US will be pleased to hear that although the Rotartica looks similar to standard units used in the country, the invention has no copper inside it. The machine was made in Spain for a coastal environment and has a steel outdoor coil.
A small camera inside the ac unit allows US researchers and Rotartica's inventors to monitor the unit's performance from a computer screen 24 hours a day, seven days a week.
In the mid-1970s, UK chemicals manufacturer ICI showed gravitational forces generated by rotation can substantially improve the efficiency of chemical processes. Cheltenham-based firm Interotex was set up in 1993 to develop ICI's idea and in 2003 Rotartica acquired the licences and knowledge to manufacture the new product and develop patents of its own.
Researchers expect the Rotartica unit will be available for purchase in the US within two years.
Click here to leave a comment
Comments
---

By Andy Schroder
Or, you can see it at the 2007 Solar Decathlon

http://solar.uc.edu/solar2007/engineering

---