Published on 4 - January - 2013
Hydrocarbon-blown fridges are hazardous waste
UK: The UK Environment Agency has advised that all waste refrigerator insulation foam produced using a hydrocarbon blowing agent should be considered highly flammable and, as such, should be classified as hazardous waste.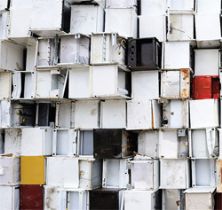 The announcement is based on tests carried out on 20 refrigerators containing insulation blown using cyclopentane, i-pentane, n-pentane or mixtures of these gases. The study found that all tested foam samples should be considered "highly flammable" under European Test Method A10 Flammability (Solids) and concludes that all fridge insulation foam produced using a hydrocarbon blowing agent should be classified as hazardous waste, unless tested and demonstrated otherwise.
The Environment Agency says that the results of the study will be used to identify options for minimising or preventing accidents and incidents and to ensure that fridges containing hydrocarbon blown foams are sent to appropriate permitted treatment facilities for storage and further treatment
Modern fridges now contain insulating foam that is blown with hydrocarbon blowing agents which have replaced the use of CFCs, HCFCs and HFCs on environmental grounds. But, while hydrocarbon blowing agents are not ozone depleting and have low global warming potential, they do pose a greater fire risk due to their high flammability.
While the WEEE Directive and Defra's BATRRT (Best Available Treatment. Recovery and Recycling Techniques) guidance do not explicitly require the collection and destruction of hydrocarbon blowing agents; appliances containing foam produced with these blowing agents must be treated in "intrinsically safe" plant, says the Environment Agency. Discussions are said to be currently underway with the HSE to confirm the definition of intrinsically safe equipment".
While some pentane fridges are processed in dedicated fridge plants, a number of operators currently co-process degassed hydrocarbon fridges in scrap metal shredders, whilst others process them in generic waste shredders or, even, car crushers.
There has previously been uncertainty regarding the correct classification of degassed hydrocarbon fridges under Duty of Care/Hazardous Waste Regulations and they have often been classified and transferred as non-hazardous wastes.
According to the Environment Agency, when assessing waste electrical equipment, such as fridges, it is the presence or absence of hazardous components that determines if they are classed as hazardous waste or not.
"Insulation foam that has been blown with a hydrocarbon blowing agent (pentane) has been demonstrated to possess the hazardous property H3A (highly flammable)" says the report. "This means it is a hazardous component and would, amongst other components, make a fridge a hazardous waste."
As a result, the Environment Agency maintains that degassed fridges that contain insulation foam produced with a hydrocarbon blowing agent should be classified and consigned under one of the following hazardous waste codes: 16 02 13 or 20 01 35. Similarly, foam panels mechanically cut and removed from fridges that contain a hydrocarbon blowing agent should be classified and consigned under the 19 12 11 waste code.
"It must be ensured that at sites accepting or producing wastes consisting of or containing hydrocarbon-blown fridge foam appropriate measures are provided for their safe storage and handling to prevent fire initiation and escalation/propagation," says the report.
Specifically, this means appropriate measures for waste separation/segregation, such as fire breaks/walls and the prevention of flammable atmospheres.