Published on 4 - January - 2013
Danfoss attains full ownership of Turbocor
FRANCE: Danfoss has acquired full ownership of the joint venture company Danfoss Turbocor Compressors, in which Danfoss has had a 50% stake since 2004.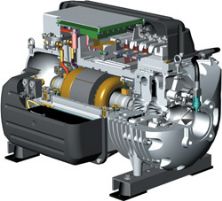 Using ground-breaking oil-less technology, the Turbocor compressor has become a standard component in many large chillers due to its impressive energy efficiencies.
"We believe that Danfoss is the ideal single owner of this business because Danfoss is a global compressor manufacturer, a well-respected leader in our industry and committed to the long- term success of our business and our customers' businesses," commented Ricardo Schneider, CEO of Danfoss Turbocor Compressors.
Already boasting a strong position in the residential and commercial compressor market, Danfoss sees the acquisition of Danfoss Turbocor as a means to secure the company's leading position in variable speed compressor technology.
Danfoss Turbocor Compressors is headquartered in Tallahassee, Florida, and employs approximately 200 employees. The company has received prestigious awards for its technology including the AHRI Innovation Award and the U.S. EPA Climate Protection Award. The company becomes part of the Danfoss Commercial Compressors division but will continue to operate as an independent business.