Published on 4 - January - 2013
Fire brigade calls for higher standards in fridge freezers
UK: The London Fire Brigade has called for higher safety standards in fridge freezers in a new report which describes them as the 'most dangerous household appliance when involved in a fire'.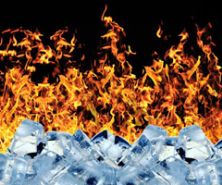 The report looks at fires that were started by electricity or in electrical appliances and follows a fire in Neasden, North London, last year that was started by a chest freezer and which resulted in the deaths of six people. The London Fire Brigade blames what it describes as 'the large amounts of plastic and highly flammable insulation, which can cause big fires that spread quickly'. This insulation also produces highly toxic gases when involved in a fire, it adds.
According to figures from the Department for Communities and Local Government, there is an average of 336 fires involving fridges or freezers in the UK each year, injuring 69 people or one person in every five fires. In the USA, where standards are different, the London Fire Brigade report says that there is an average of only one injury for every 25 fires involving fridges, freezers or fridge freezers.
According to the report the way fridges and freezers are built and the materials used to make them have changed over recent years to include more plastic. These changes have increased the risk to people if a fire starts because the highly flammable insulation is not separated from parts of the fridge or freezer where a fire can start. If this insulation catches light a fire can develop quickly.
Tougher safety standards mean that in the US, the flammable insulation in fridges and freezers is far less likely to be involved in a fire. However, UK safety standards mean the highly flammable insulation does not have to be protected by a fire proof material.
As is the refrigeration systems, CFCs are no longer used as foam propellants and HFC-blown foams are now rare due to global warming concerns. Instead, most refrigeration appliances are foamed using highly flammable hydrocarbon propellants, usually cyclopentane or, sometimes, pentane.
Recent flammability tests conducted on behalf of the UK Environment Agency described hydrocarbon-blown insulation as "highly flammable" and should be classified as hazardous waste, unless tested and demonstrated otherwise. "HC [hydrocarbon] blowing agents are not ODS and do not have a high GWP but pose greater fire risk due to their high flammability," says the Environment Agency report.
London Fire Brigade wants to see tougher standards so that the highly flammable insulation used in fridges and freezers is made safer from fire. This could involve separating the insulation from the electrical parts with a fire proof material and, in case a fire starts outside of the fridge or freezer and spreads to it, totally encasing the insulation. The Brigade says that this will reduce the number of injuries, and potentially deaths, caused by fires involving fridges and freezers.
Rita Dexter, Deputy Commissioner of the London Fire Brigade, said: "Almost every home in Britain has a fridge or freezer and the chances are, it will be plugged in and working safely for years. Unfortunately, on rare occasions problems do occur and the result can be a big fire with potentially tragic consequences. This is why it's so important to make sure that if a fire involving a fridge or freezer does start, it doesn't spread.
"London Fire Brigade wants to see tougher standards so that the highly flammable insulation in fridges and freezers is better protected from fire. In the meantime, our advice is that if people notice any strange noises coming from their fridge or freezer, they should call the manufacturer or an electrical repair expert immediately."
Click here to leave a comment
Comments
---
UK fridges - foam flammability - only 1/2 the issue
By P Skeet, ACORD AIR SYSTEMS
I'm surprised that they are only highlighting the foam as an issue since R600 (propane) the refrigerant used in a lot of new fridges lately, is a bigger contributor to a fire, especially when you consider that probably most domestic fires start in kitchens! Don't they check their statistics before issuing their concerns?!

---
UK Fridges
By Jatinder Virdee
I totally agree with Mr Skeet, manufactures should start looking at NOT to use R600 anymore. Daikin are experimenting with similar refrigerants, which needs to be looked at!

---