Published on 10 - July - 2012
Dates for ACR Show 2014 announced
UK: Following the successful launch earlier this year, the organisers have announced that the next Air Conditioning and Refrigeration Show will take place from 11 to 13 February, 2014, at the NEC in Birmingham.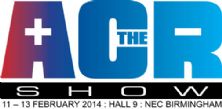 The earlier-announced date in March 2014 has been rescheduled to avoid a clash with Mostra Convegno, the big Italian exhibition.
The ACR Show 2014 has the backing of key industry organisations, including the Institute of Refrigeration (IOR), the British Refrigeration Association (BRA), the Federation of Environmental Trades Associations (FETA) and the Building and Engineering Services Association (B&ES).
A number of well-known companies have already committed to the 2014 show, including refrigeration manufacturers AHT and GRAM, heat exchange company Lordan, and tools and equipment specialist Javac (UK) Ltd. Other major air conditioning and refrigeration companies are in the process of confirming their stands on the floor plan and announcements will follow shortly.
Total attendance at the launch of what is the acr industry's only national exhibition was 3,492, the organisers have confirmed, including visitors and exhibitor attendees. Jan Thorpe, event director, said: "It was an extremely positive result for a brand new show, and provides an excellent foundation on which to build for the next ACR Show in 2014."
She added: "We are already working on exciting plans to expand the event. This includes even better networking opportunities and visitor attractions, such as cutting edge business and technical presentations, training and other high interest features."
The show, supported by more than 100 leading companies and with a high profile seminar programme with top industry speakers, provided a not-to-be-missed opportunity to get up to speed with the latest developments across the refrigeration and air conditioning scene.
Among visitors to the launch show the largest category represented was contractors and installers (30%), followed by manufacturers (18%). End users and consultants - vitally important specifying groups for many exhibitors - represented 11% and 10% respectively.
Exhibitors praised the sheer quality and buying-power of visitors. "The visitor analysis shows that nearly 70% of visitors had either direct responsibility for purchasing decisions or influenced them. It reflects the overwhelming feedback from exhibitors that the show attracted people with serious buying power," said Jan Thorpe.
Visitors welcomed the event and were highly positive about the value of attending. Mark Fisher, of Cambridge-based Fisher Refrigeration Ltd, said: "I very much enjoyed meeting potential new suppliers and gaining an industry-wide perspective on the market and the direction of manufacturers. The show is a must for keeping up-to-date with new possibilities."
Donald Lack, of NIFES Consulting Group, highlighted the benefits of attending for consultants: "It was good to see the air conditioning industry rising to the challenge on energy efficiency and improved technology. I was also pleased to see the new software tools being developed by manufacturers to support consultants with products."
Many visitors have already made significant equipment purchases as result of attending the show. James Picton-Robinson of CYKOOL Ltd said: "I met a number of very useful suppliers through visiting - and have made several purchases as a result."
The range of new technology on display and developments in existing products proved a draw for many visitors. Gordon Carey of retail IT specialist Steria Ltd said: "I visited the show not knowing exactly what to expect. The latest technology proved extremely beneficial."
The show was backed by eight big-name sponsors: LG sponsored the technical seminar programme; Climate Center the Business Intelligence Theatre; Panasonic sponsored the Heat Pump Arena; Mitsubishi Heavy Industries sponsored the onsite visitor registration area; Gram and Hoshizaki sponsored the networking area; and ICS Temperature Control/Cool Energy Ltd sponsored the exhibition visitor name badges.
The Skills Centre, sponsored by HRP, included representation from Summitskills, City & Guilds and Building Engineering Services Training (BEST).
Exhibitors included AHT Cooling Systems, Bitzer UK, Dorin, Emerson Climate Technologies, Frascold, Fujitsu General (UK) , GEA Searle, Gram (UK), Hoshizaki, HRP, Hubbard, ICS/Cool Energy, J&E Hall International, Javac, Mexichem Fluor, National Refrigerants, Oceanair, Sabroe, Teknic Refrigeration, Thermofrost Cryo and Carrier UK.
When it returns to the NEC in 2014, the ACR Show will occupy Hall 9, conveniently located for those travelling by both car and train.
The ACR Show 2014 website goes live from 1 Aug 2012, with the new exhibition floor plan and full details about exhibiting and visiting the show.
For further information contact Carolyn Blakely on 01342 332000 or emailacrshow@fav-house.com.