Published on 9 - February - 2010
Grab your seats for Transforming Technologies- March 3
AIR CONDITIONING and refrigeration specialists are securing seats at the Transforming Technologies conference on March 3, to hear about the new technologies changing the future of the industry.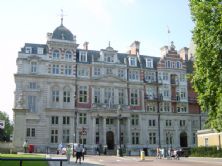 Transforming Technologies at Institute of Mechanical Engineers
Hosted by ACR News at London's Institute of Mechanical Engineers, the Transforming Technologies conference will bring together industry experts, contractors, end users and government advisors.
Conference delegates will be welcomed by Graeme Fox, a director of AREA (Air Conditioning and Refrigeration European contractors' Association).
"The heat exchange revolution: Microox micro channel technology" is presented by Justin Schofield and Joseph Ria from H Guntner UK.
Tony Sgarbi from Permafrost will discuss "Improving performance with chemically engineered additives".
"Opportunities for harnessing new HC refrigerant blends" is the topic presented by Nicholas Cox from Earthcare Products.
Dr Guy Hundy from Emerson Climate Technologies will discuss "Scroll compressor development for heating applications".
Klas Berglof, ClimaCheck, Sweden will present "Performance inspections for optimising RAC plant" and will discuss how ClimaCheck diagnoses faults. "Practical field performance analysis of acr systems" is presented by Mike Creamer md of Business Edge.
Ken Strong from Cool Therm with KlimaTherm and Geoclima will present "Practical applications of new turbine compressor technology".
Michael Henchoz from Bitzer UK will present "New developments in compressor design"
"From HCFCs to HFOs - new solutions for the future" is presented by Dr Frank Rinne from DuPont Refrigerants
The Institute of Mechanical Engineers is situated in Birdcage Walk, a short walk from the Houses of Parliament. Lunch is provided.
Conference delegate tickets are available at £399 + VAT.
To book your place contact
JanThorpe
on 020 8651 7100 or visit
Conferencetickets