Published on 1 - September - 2008
Magazine Article
Cold Stores - Report charts worldwide growth in cold storage capacity
PUBLIC refrigerated warehouse (PRW) storage capacity is increasing around the world, according to the International Association of Refrigerated Warehouses (IARW) Global Cold Storage Capacity Report.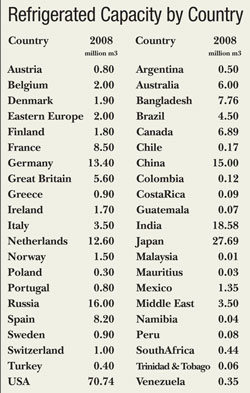 Refrigerated capacity by country
IARW has collected data for the 2008 report from over 40 countries, more than ever before.
The numbers suggest a worldwide trend toward increasing cold storage capacity driven by a greater reliance on the cold chain to meet growing trade and consumption rates of perishable products.
Overall global capacity in 2008 is approximately 247.77million m3.
Looking at the countries of the European Union, with 13.4 million m3 of cold storage capacity, Germany ranks first.
The Netherlands comes in second, with 12.6 million m3, followed by France and Spain with respectively 8.5 and 8.2 million m3.
When looking at the European continent as a whole, Russia tops the list with a current capacity of 16 million m3.
"The cold storage industry is continuing to grow rapidly around the world," notes IARW European director Theo van Sambeeck.
"Additionally, we are seeing more and more companies relying on the expertise of the third party logistics industry to meet their storage and distribution needs."
Data accuracy
Data in the report pertains primarily to public refrigerated warehouse capacity. However, the definition of public and private warehouses differs from country to country.
Furthermore, in some cases, the available data did not clearly distinguish between public and private facilities in a country. All this can have a significant impact on the data and must be taken into account when comparing national markets.
It is also important to note that today's dynamic distribution logistics systems rely on information technology, cross-docking and other methods to achieve higher velocity and reduced storage times.
As a result, growth in the use of PRW space is even greater than it appears based on a straightforward review of capacities.