Published on 1 - July - 2008
Magazine Article
Advances in magnetic cooling attract industry leaders
LEADING lights from the industry met pioneering researchers from academia at the end of May to discuss ways of harnessing the latest research into sustainable RAC technology.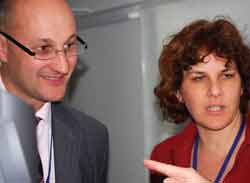 Dr Grahame Maidment of South Bank University discusses technologies with IOR's Miriam Rodway
The meeting at Oxford University was the first in a series of events being organised around the country by SIRAC, the recently-formed Sustainable Innovations in Refrigeration and Air Conditioning network.
The government-funded organisation, supported by the IoR, links up researchers in universities with companies seeking solutions to technical problems, to accelerate the transfer of knowledge and ideas to the marketplace.
Delegates heard presentations on the advances in magnetic cooling and new linear compressor technology.
Dr Karl Sandeman of Cambridge University outlined the theory behind magnetic refrigeration, and presented the latest areas of promising research. "It is a rapidly evolving field, and we believe it has great commercial potential for the future," he told delegates.
Advances in magnetic cooling are being commercialised through Camfridge, a spin-off company from Cambridge University. It is working with industry partners to develop magnetic cooling as a commercial proposition.
Paul Bailey of Oxford University highlighted developments in cooling solutions for high-integrity systems, such as satellites and space telescopes, which could have wider application in future. Researchers are developing the third generation of oil-less linear compressors said to be more powerful, compact and robust than previous versions.
A project is underway to design a new cooling system for the successor to the Hubble Telescope, the James Webb Space Telescope.
Robert Arthur, head of refrigeration at Marks and Spencer, said: "I am eager to support SIRAC in its aims of bringing together the worlds of academia and industry to solve the challenges we face on the sustainability front."
Judith Evans of FRPERC, Bristol University, and a member of the SIRAC steering committee, said: "There are researchers beavering away in academic institutions but unless we connect them with industry and real-world problems, the full potential will not be realised. SIRAC's aim is to plug industry into the great things going on in academia, and expose academics to the problems practitioners face in the real world - in order to accelerate change."
For more details, contact Miriam Rodway on 02086477033 or visit www.sirac.org.uk